Technology has advanced rapidly and improved the way we live and work. However, when we think about improving the tenant experience, we don't see technology as the first step.
People expect a quick and frictionless experience in everything they do, from checking their emails on their phones to accessing information from any device. You need to have technology that integrates and communicates seamlessly. The main challenge for landlords is the wide range of real estate solutions on the market that don't integrate with one another.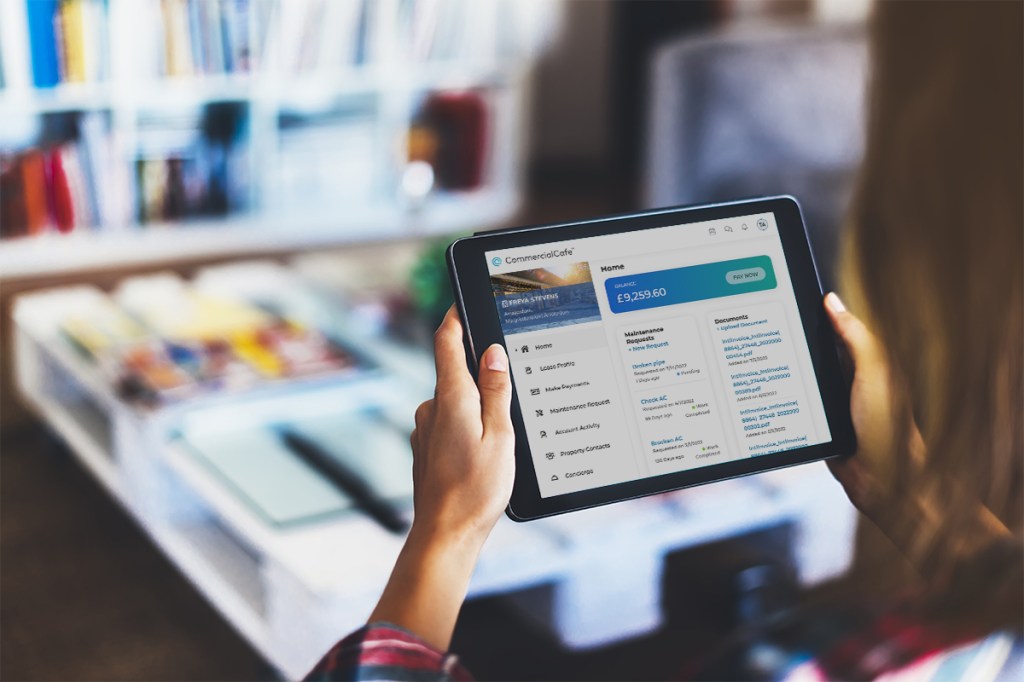 With the right technology, you can increase convenience and enhance the tenant experience with secure portals and mobile apps for real-time lease information and services, accounts receivable statements, lease documents, facilities requests and more.
Solutions such as CommercialCafe by Yardi, improve communication between tenants, staff and technicians to reduce maintenance response times and help streamline complexities. You can also ensure tenant satisfaction with follow-up surveys.
Yardi client, MD/Partner, Marc Poelmann for FRIS Real People stated, "CommercialCafe saves us a lot of time. In the past, we had a lot of requests from our tenants asking us to send them their invoice for the past rent, or the invoice of the service costs of last year so they could compare it with the new one. Those questions are not being asked anymore because tenants can see their answers in our CommercialCafe platform and download them."
Streamline Lease & Property Documents
Cloud-based connected solutions allow your tenants to access the information they need at a click of a button. For example, with Yardi's CommercialCafe, the tenant can view, download and upload copies of lease documents securely, such as a Certificate of Insurance, that is attached to their lease in Yardi Voyager.
Furthermore, property documents, such as fire evacuation procedures, tenant handbooks or parking agreements, can be accessed and downloaded within the same platform. Your tenants can find the information they need in their own time without back-and-forth emails or phone calls, helping to streamline operations.
Streamline AR Statements
With a solution such as CommercialCafe, your tenants can access an online portal and view and download their invoices. They will also have a clear overview of the current outstanding charges, view the current month's charge schedule and check future charges.
By utilising an online portal and allowing your tenants to self-serve, they can gain a better user experience and work in a way that suits them. It allows your tenants to check payment statuses, gain a clear overview of monthly and quarterly reporting and check their payment history. In addition, the tenant can receive notifications for action items, all from one central dashboard.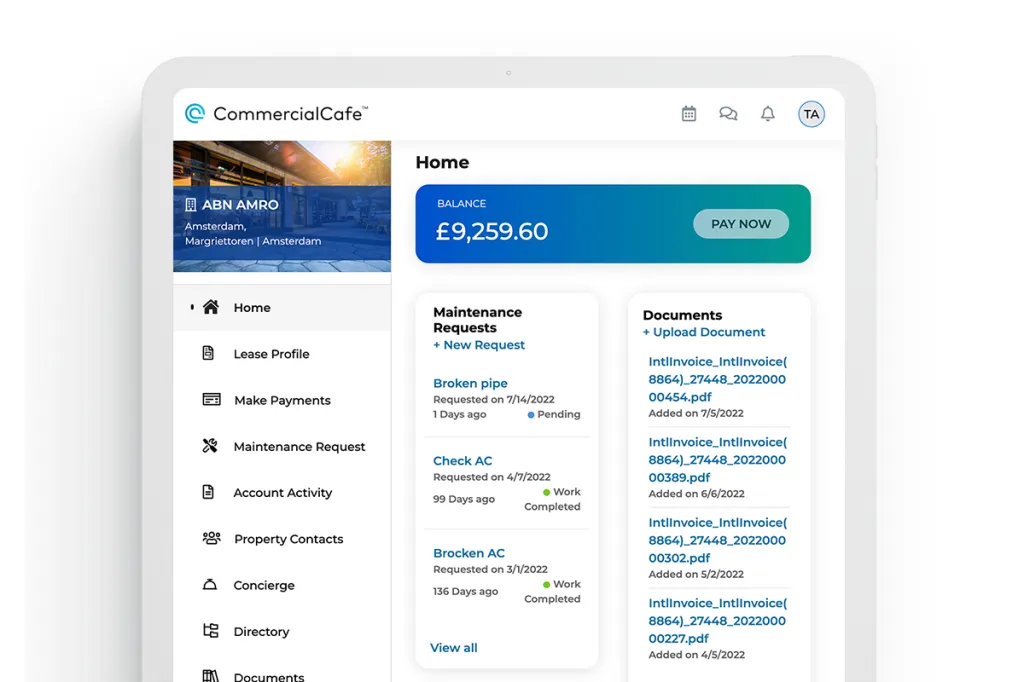 Streamline Work Orders
Maintenance requests can be a long and tedious process but by incorporating them within an end-to-end solution, such as Yardi's, tenants can submit new requests instantly that are unit specific or for common area requests.
Within the dashboard, you can assign the requests to your technicians and check schedules with ease. Your tenants can view status updates in real-time, receive notifications on the progress and check their maintenance request history, providing complete visibility.
Having a central dashboard to view, submit and access updates on requests provides both you and your tenant with a thorough history of previous unit maintenance requests, allowing you to plan ahead for any monthly, quarterly or annual maintenance tasks.
Enhance Tenant Satisfaction
Create surveys to keep in touch with your tenants and gather feedback on your services. If your tenant submits a maintenance request, you can set up surveys to collect information such as whether they were happy with the service, was the technician on time or if they would like to provide more information.
You can fully customise questions and reporting and have the tenant complete it in their own time via the desktop or mobile app. By gathering ongoing feedback from your tenants, you can further enhance and improve your services to enable a frictionless experience.
Your tenants want a platform that is flexible and works on their schedules. Landlords also want to be more engaged with their tenants. With an all-in-one, connected solution, you can provide your tenants with the customer journey they want. In turn, your teams' daily processes will improve and reduce the total cost of ownership across technology, thus helping you retain your tenants and provide the flexibility they require.
Stay connected with CommercialCafe
Staying connected, making payments and having visibility of property documents and maintenance requests are key actions to ensure tenant retention. CommercialCafe by Yardi is a one-stop shop for helping your tenants, and you, stay engaged with their property. Whether you own a retail or commercial property, CommercialCafe will save you time and give tenants greater control over their lease information, the ability to request maintenance and feedback on the property services you provide.